Thanks to Chevy, I experienced something completely new that got me excited enough to brave traffic from Central Austin to San Marcos during rush hour on a Thursday. I was invited to participate in and blog about the Chevy Fast and Fuel Efficient driver/blogger challenge.

The stakes?
The winning team of the event got four tickets total (two per person) to the AAA Texas 500 at Texas Motor Speedway with one-night reservations for the Marriott Hotel in Dallas, as well as a week-long Chevrolet Camaro or Corvette loan. So, something for somebody who is interested in cars to compete for, though not necessarily what an electric vehicle enthusiast would find themselves normally doing. Good thing I'm both.
Living 2 miles from where I work, and commuting on an electric vehicle, I rarely have to deal with rush hour traffic on IH-35. Every time I venture out on that road, it just reaffirms my decision to do what I need to do to avoid the sporadic, unpredictable mess. My first unofficial challenge for the event was to drive down to Volt HQ at Chuck Nash Chevrolet in San Marcos where the adventure would begin, and to get there by 5:00 pm. I got there, but it wasn't easy.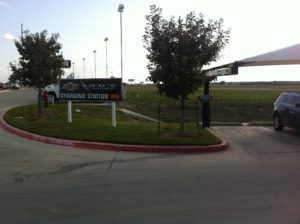 There I met my teammate David Umscheid, the other teams, team Ham/Baker and Scanlon/Warden, and we all got introduced to our Volts.
I'm sure you can find better detail on the Volt than I would ever write at the Volt website, but, I'll say that I've been impressed with the approach GM engineering took with this car since AustinEV was generously included in the SXSW ride and drives during the pre-launch media introduction. I wish they would have provided more electric mode range than 40 miles, but coupling the electric drive with the gas engine in the way they did is just plain elegant. It may be more complex than I would like in an electric car, but it makes for an excellent "gateway" vehicle if you are wanting to test the electric commute waters.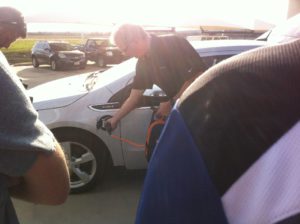 After introductions and orientation, we got to ask our questions about the rules. Then, pretty quickly we were on our way. The drivers took the wheel while the bloggers jumped in to navigate.
While the rules stated that there would be a severe penalty if we used gasoline to complete our challenges, it became obvious that our drivers had interpreted "fuel efficient" in the most aggressive way possible. First Dave (my driver teammate), decided to disable the car's climate control. At the distance we were about to drive, the few amps the climate control uses would probably not have affected our ability to complete the challenges but [shrug] why not? The cold front was blowing in so it would be cool enough in the cabin.
I assume all the other drivers took similar approaches because we all proceeded to race each other to be the slowest car on the road. I don't think drafting at 5 miles an hour really makes much difference. Take your worst hyper-miling nightmare and I was in it [grin]. The Volts could have done freeway speeds and avoided burning any fuel on this route with no problem. Instead, we're poking along, getting to experience some of the most interesting "body language" from the other drivers on the road I've seen in a while. Heh – somehow I doubt this was the exposure Chevy was hoping for.
Too bad, as I said, I've driven the Volt before and it handles well with excellent pickup and handling. I think the drivers would have had some fun if they had let the Volts show their stuff a bit and put them in sport mode. Even with the challenges, it was unlikely that we would be driving anywhere near the 40 miles that the Volt is able to do in electric mode. I never thought I would be the one wishing we could go faster or be more aggressive.
The goal was to drive to Dick's Classic Garage (an auto museum) and then to Thunderhill raceway attempting to accomplish two out of a list of ten possible challenges on the way. From what I got to see of the museum, they have a beautiful collection of vehicles from the 1930's through the 1950's. I didn't know about the collection and I hope to get a chance to go back and hang out for a while getting a better look at all of the vintage cars.
I took a picture of David with a beautiful classic Corvette and we got back on the road with challenge one out of the way. Then, on the road, we were able to snag a picture of "another" Volt, check off another challenge. Finally, when we arrived at Thunderhill Raceway, there was a place that easily represents "speed", providing a backup photo in case either of our other two would be disqualified for some reason.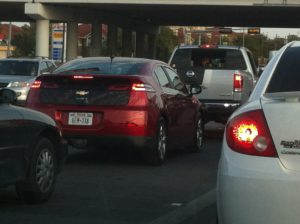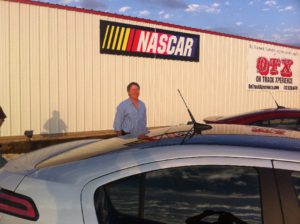 We arrived at On Track Experience(OTX) and got the cars checked out to ensure we hadn't used any gasoline with each of the teams getting the full pts. So, the winner of this event was going to come down to who was better at the on track racing. With our harrowing slow speed freeway run out of the way, we were on to the Fast segment of the evening.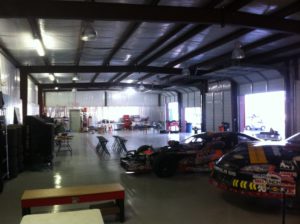 I have never been out on the track in the Naskarts and I saw this as a golden opportunity to see what they can do. Luckily, this event was full of people who knew what they were doing (not me) so that I could watch how it is to drive these karts right. You see, Chris Baker works at OTX, Jeff Warden is involved in league racing at OTX and David Umscheid is heavily involved in the events at Thunderhill Raceway through his son's racing business. Then, you do some research on Russ Ham and Dan Scanlon and you'll see that they too are heavily involved in SPOKES and SCCA racing with Dan blogging about his adventures in learning how to race at Racing Ready and Russ having posted his experiences during the FFE here. Then there's me, Aaron Choate, with a strong interest in all of this, but having never driven on the track. I help to support the local electric vehicle community at AustinEV and the national scene at the EVTradinpost. I help design and build custom electric cars with my partners at REVOLT electric vehicles. I've helped in prepping a car for a National Electric Drag Racing event where we got to see John Wayland's White Zombie run its fastest times to date. I've even had the opportunity to do a ride-along at an SCCA event. But, I have never driven on a road or oval track in gas or electric form.
As I said, this was a learning opportunity for me.
We went through drivers orientation where we were informed that something called bump drafting was to be allowed and that we would not, in fact, be participating in time trials, but instead be running as a group in 10 lap sessions. Then, we got suited up to get out on the track. "Wow – do I really need a neck brace?!" They assigned us our karts and we were ready to head out.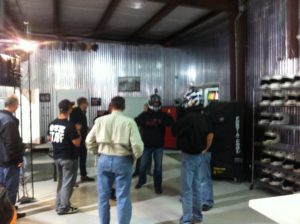 From the 10 lap warmup session to the actual 10 lap race, I had a blast. While the rest of the field quickly took to the track and worked out where the line was, I took longer to get comfortable with things and start to improve my pace. However, even as I was doing it wrong I was still having fun. The karts are fast and nimble allowing for quick corrections if you start sliding. You can power around the track without much worry that you'll loose control and cause issues for the other drivers.
Without too much surprise, I came in dead last, but enjoyed every last minute of it and came away from the event wanting more time on the track so that I could figure out the line through turns 1 and 2. As I suspect that the Volt can be a gateway to full electric vehicles, I have a strong suspicion that Naskarts are a gateway to car racing. Though it wasn't oval racing, as I recall, Senna graduated from professional kart racing to become a legend in Formula One.
Now I just need to see if I can figure out how to make an electric Naskart! [grin]
Since I came in last, I'm afraid so did team Choate/Umscheid. Team Scanlon/Warden came in second and team Ham/Baker came out on top. Chris Baker was kind enough to offer the tickets that he won as his portion of the first place finish to Dan Scanlon and myself and Russ Ham offered his tickets to the SPOKES club to include in their efforts to raise money for Bastrop Fire relief. I'm hoping that the tickets I have now received can also be included in that effort in some way since I will not be able to attend the race at the Texas Motor Speedway.
Thanks to the crews at Chevy, OTX and Fleishman Hillard. I got exactly what I had hoped for out of the experience.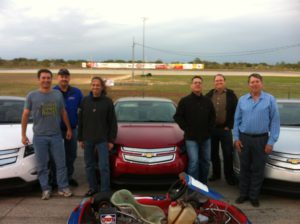 Oh and just one last word of advice – If you know somebody is about to shove a camera in your face, you better think up what you're going to say before you open your mouth. Otherwise, what comes out will be incomprehensible drivel that you will hope doesn't see the light of day. Watching the other guys do their after race interviews was almost as interesting as the rest of the event. I have no idea what gene is involved in getting all the sponsors mentioned in a post race interview but … I don't seem to have it.